About Us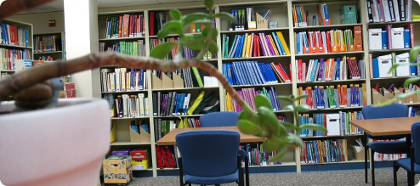 The Center Library is a specialized collection of more than 20,000 books, journals and visual materials that support and expand upon the philosophy and mission of each of The Center's departments and programs. There is extensive material in various formats on:
--  teaching ESL to adults and K-12 students
--  adult basic education, literacy, and GED prep
--  early childhood education
--  multicultural issues in education, and much more
The Center Library is part of The Center: Resources for Teaching and Learning, a nonprofit agency in Illinois. The library supports the work of the Adult Learning Resource Center, the Illinois Resource Center, and the Early Childhood Professional Learning programs.
The library is open to all Illinois educators.
 
For libraries requesting Interlibrary Loan, we are part of RAILS in Illinois, and our OCLC code is QI9.   More information here.
Map and Driving Directions
Detailed driving instructions to The Center, 2626 S. Clearbrook Drive, Arlington Heights, Illinois 60005.